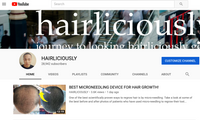 SUBSCRIBE TO MY YOUTUBE CHANNEL!
After noticing hair loss in my early 20s, I decided to do something about it. In November 2016, I decided to have my very first FUE hair transplant in South Korea. Ever since, I have been helping thousands of hair loss sufferers through research and from my very own hair transplant experience! Subscribe to stay updated on the latest hair loss treatments in the pipelines, hair transplants, and anything pertaining to hair re-growth! 
SUBSCRIBE NOW
Testimonials
AWESOME HAIRLICIOUSLY  microneedling pen! Great quality, comes with 10 needle cartridges and batteries last a really long time after each charge! Super fast shipping!

James P.
Great customer service and response was prompt each and every single time. The titanium derma roller has actual single needles unlike other rollers that are gear-based.

Sammy Z.
This is my first time buying a microneedling device and was really impressed at the quality of the product and it really did not hurt the scalp at all. Really lovin' it

Justin C.
Received the derma pen today and I am in LOVE with it. Multiple settings for not just the head but also for treating skin conditions. Thanks hairliciously! 

Julie S.
Thanx for da titanium Derma Roller. Hopefully it helps me regrow some of my hair back!!

Thidashi L.
Great e-Book! Really helped me narrow down my search for a hair transplant doctor in Turkey!

Eric K.
Get in Touch
CUSTOMER SERVICE IS OUR TOP PRIORITY
Good news or bad, we want to hear from you. HAIRLICIOUSLY is here to help with whatever you need. Drop us a line and we'll get back to you ASAP. Thanks!