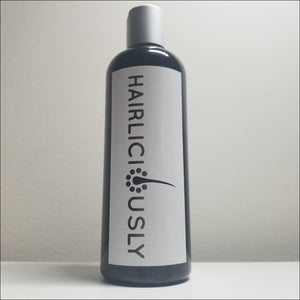 **DHT Blocking Shampoo is finally back in stock! Limited quantity only.
HAIRLICIOUSLY DHT Blocking Shampoo Bundle Package (3 Pack)
I would like you introduce to you my DHT Blocking Hair Loss 10 oz Shampoo! After months of research and working with a chemist to formulate my DHT blocking hair loss shampoo, it is finally available for purchase! HAIRLICIOUSLY DHT Blocking Shampoo helps inhibit the conversion of 5-alpha reductase enzymes to DHT, one of the main causes of men suffering from baldness. Hair follicles that are affected by DHT will undergo miniaturization and will grow thinner and thinner until it disappears.
Check out my blog for more in-depth information on the shampoo!
HAIRLICIOUSLY's DHT Blocking Hair Loss Shampoo 10 oz is aimed just for this very reason. I have researched the top blends of botanicals that prove to be the most effective treatments against hair loss and is proven through multiple scientific studies when it comes to hair growth. The shampoo is FREE of parabens, sulfates, phthalates, silicone, and harsh chemicals. Below are a list of ingredients in the shampoo known to fight hair loss and block DHT while reducing hair shed/thinning, improving hair strength, helping revive and nourish hair, and stimulating thicker and healthier hair.

Ecklonia Cava – Ecklonia cava contains antioxidants and anti-inflammatory properties known to help with hair fall. It also is loaded with many polyphenols such as diekol and eckol which have been proven to block DHT. I have been particularly interested in ecklonia cava for a long time, and strongly believe it to be one of the most powerful antioxidants that can block DHT. The shampoo is loaded with the highest level of polyphenol extract possible within Ecklonia Cava (over 90%+ of polyphenol extract) that is verified through lab testing.

Argan oil – Argan oil helps eliminate dandruff and other scalp conditions while promoting heathy hair growth.

Horsetail extract – Horsetail extract contains selenium, which is essential for proper hair growth.

Nettle extract – Stinging nettle extract also has great 5-alpha reductase enzyme inhibiting properties while helping maintain levels of testosterone to reduce hair loss.

Coconut oil – Coconut oil is rich is beta-sitosterol, a known compound that blocks DHT production. It also helps with new hair follicle production while removing sebum from hair follicles.

Avocado oil – Avocado oil contains huge amounts of monounsaturated fats, copper, folic acid, magnesium, proteins and other minerals that help strengthen the building blocks of hair follicles.

Jojoba seed oil – Jojoba seed oil is rich in nutrients that help aid in hair growth. While it doesn't block DHT, it contains a variety of nutrients and antioxidants that promote healthy hair follicle growth.

Pumpkin seed oil – Pumpkin seed oil has rare amino acids that have DHT blocking properties, while stimulating hair growth and increasing circulation to the scalp.

Tea tree oil – Tea tree oil has studies which show that it may offer potent DHT blocking properties. Research found that topical application of tea tree oil could effectively block DHT production.

Rosemary oil – Rosemary oil helps stimulate hair growth naturally by increasing scalp blood circulation.

Peppermint oil – Peppermint oil is a great vasodilator and helps stimulate hair growth with its ability to increase blood circulation around the scalp.

Cedarwood oil – Cedarwood oil helps stimulate the hair follicles by increasing circulation to the scalp, which contributes to hair growth and slow hair loss.

Marula oil – Marula oil is high in antioxidants and essential fatty acids in addition to anti-inflammatory properties which help keep the scalp healthy and encourage hair growth.

Grapefruit oil – Grapefruit oil helps facilitate healthy hair growth by acting as a stimulant by increasing the circulation of blood to the scalp. It also helps remove dirt, bacteria and sebum that accumulates in the scalp.

Lemon oil – Lemon oil works wonders for oil and flaky scalps, while cleansing and balancing the pH of the scalp.

Keratin – Keratin is a protein that helps strength hair, making hair look full and glossy.

Caffeine – Caffeine is known to help extend and stimulate the life cycle of hair follicles while encouraging hair growth.

Ginger – Ginger contains many antioxidants and helps fight free radicals which can cause damage to hair cells, resulting in thinning and hair loss. Ginger works wonders for dandruff and dry, itchy scalps as well while encouraging blood flow to the scalp.

Saw palmetto – Saw palmetto is a berry producing plant that inhibits the enzyme 5-alpha reductase. This is one of the most popular natural DHT blockers and a lot of evidence has been gathered showing its efficacy in slowing hair loss.

Biotin – Biotin helps keep the skin, hair, and nails healthy while promoting overall hair health. Biotin helps strengthen the hair follicles and the hair shaft.

Vitamin B5 – Vitamin B5 helps increase blood flow into the scalp, allowing vital nutrients to nourish the hair follicles and promote healthy hair growth.

Vitamin D3 – Studies shows that a lack of Vitamin D3 can contribute to hair loss. Supplementing your hair with vitamin D3 helps slow the progression of hair loss.